Eric Mahl — Assistant Conductor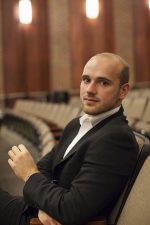 Eric Mahl is the conductor of the Philharmonia Orchestra at the Third Street Music School Settlement, music director of the Western Connecticut Youth Orchestra, artistic director of the Harmony Program Youth Orchestra North and of the New Jersey Young Artists Ensembles, and the GVO's own assistant conductor. Mr. Mahl is a musician who believes in the transformative powers of music above all else. His hope is to provide meaningful, enriching and educational musical experiences to as many people as possible. Under the belief that the study of music is essentially an exploration of the human condition, and that classical music is infinitely beneficial for every human, he strives to cultivate an appreciation and understanding of music played with the highest possible level of artistry.
Mr. Mahl's past positions include assistant conductor to the contemporary music ensemble Orchestre 21, in Montreal QC, and Urban Playground Chamber orchestra in New York, New York, Conductor of the Fredonia Symphonia, cover conductor for the Orchard Park Symphony in Buffalo, NY, and assistant to all orchestral and operatic activities at SUNY Fredonia, in Fredonia, NY. He has been invited to guest conduct the Los Angeles Guitar Quartet, Greenwich Village Orchestra, The Chelsea Symphony, Urban Playground orchestra, and the University Orchestras of the College Conservatory of Music, Orchestra de l'Universite de Montreal, and SUNY Fredonia.
Mr. Mahl's dedication to contemporary music is evident in his many collaborations and commissions with professional and student composers, including the world premieres of fully staged operas, experimental ballet, and countless small and large ensemble pieces of all genres. While assistant conductor with Orchestre 21, Mr. Mahl was selected to act as assistant for the world premiere of Debussy's newly finished opera, Le Diable dans le Belfroi. He was also selected from over one hundred applicants to participate in the Cabrillo Festival of Contemporary music Conducting Workshop, where he worked closely with Marin Alsop and James Ross. This past January, he was invited by the Chelsea Symphony to conduct the world premiere of Tim Kiah's Song of Zippy, as well as music by Bartók.
Mr. Mahl is a passionate educator, teaching all ages and instruments at a number of schools throughout the five boroughs of New York City, and frequently working with student musicians from underserved communities. He is a firm believer that music can provide a transformational experience for any child regardless of background, and attempts to engage and inspire students from as many cultural and geographic backgrounds as possible through various community engagement activities.
Mr. Mahl received his Bachelors of Music in Education from Ithaca College and continued his studies both at Universite de Montreal and the State University of New York at Fredonia, where he received his master's degree. He has studied with some of the foremost conducting pedagogues in the United States including Marin Alsop, James Ross, Harold Farberman, Neil Varon, Marc Gibson, Larry Rachleff, Don Schleicher, Jean-Francois Rivest, Paolo Bellomia, and Joeseph Gifford. He has participated in workshops and competitions in the United States, Canada, the Czech Republic, at the Eastman School of Music, College Conservatory of Music in Cincinnati, and Bard College. Mr. Mahl's primary instrument is the trumpet, although he is well-schooled in all the orchestral instruments. He continues to perform in orchestral, jazz, and chamber music settings. Mr. Mahl is an outdoor enthusiast, and accomplished cook, and an avid runner.