Gary Dranch — Clarinet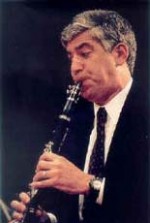 Clarinetist Gary Dranch, who holds the Doctor of Musical Arts degree in performance from the University of Illinois at Urbana-Champaign, specializes in contemporary music. His educational background was formed at The Eastman School of Music as a student of Stanley Hasty, where he received a Bachelor of Music degree in Clarinet Performance. He subsequently obtained his Master of Music degree in Clarinet Performance at the University of North Carolina at Greensboro.
A native New Yorker, Dranch currently performs with the Greenwich Village Orchestra among others. He has given recitals in the Bruno Walter Auditorium, Merkin Hall (where he gave his New York debut in 1990), Donnell Library, 'The Atrium' at CitiCorp Center, and Loeb Center at New York University. Dr. Dranch has appeared as soloist with the Bronx Symphony, Centre Symphony, Broadway Bach Ensemble, and New York Symphonic Arts Ensemble. In Brazil, he has appeared as soloist with the Sao Pedro Chamber Orchestra, OSPA, and The Chamber Orchestra of ULBRA. Dranch has dedicated much of his career to expanding the clarinet repertoire, and has commissioned or had works written for him by such composers as Elliott Schwartz, Daniel Wolff, Peter Hazzard and John Bavicchi. Dr. Dranch performed the Wolff Concerto on a CD entitled The Brazilian Concerto which was nominated for a Grammy in the Category, Best Soloist with Orchestral Accompaniment in 2001. William Nichols of The Clarinet wrote (June 2001): "…Gary possesses one of the darkest, most even and beautifully colored tones I have heard on digital discs lately. His technique is clean and smooth, and his approach, most appropriately in this piece, is unforced. He is in control at all times."
Dr. Dranch was a clinician and soloist at the Fifth International Music Festival in Buenos Aires, Argentina, where he performed the clarinet concertos of Daniel Wolff and Craig Morris with the Festival Orchestra. He appeared as soloist with the Buenos Aires Philharmonic Orchestra with guest conductor Arkady Leytush in a performance of the Hindemith Clarinet Concerto at the Colon Theatre in Buenos Aires, Argentina in 2003. In 2006, John Bavicchi composed a work for Dranch, entitled Tomorrow will be Today, Opus 126, a Double Concerto for Clarinet, Soprano and Mixed Ensemble, which was premiered at the Lawrence Academy of Music in Groton, MA in June 2008. Dr. Dranch was an invited performer at the International Clarinet Association in Vancouver, Canada in July 2007. He served as a clarinet faculty member of "AMEROPA", a summer chamber music festival in Prague, The Czech Republic, from 2005-2007.
Dranch's first solo CD was released in 2006 on MSR Classics label, entitled The Twentieth Century Clarinet Concerto, which contains the clarinet concertos of Hindemith, Bavicchi and Wolff. The Clarinet review which appeared in March 2007 concluded: "I recommend this recording as a worthy addition to the contemporary clarinetist's audio library…there is something for everyone here, and then some. Gary Dranch is supremely adept at handling the technical and musical challenges that arise in these works". A new CD, Tomorrow Will Be Today, commemorating Bavicchi's 85th birthday, features Dr. Dranch performing the title work as well as Peter Hazzard's Three Scenic Moods, Opus 75, for Clarinet and Piano Quintet. It was released on BKJ Publications label in September 2008. The Clarinet [Volume 36, Number 4, September 2009] published his article: "The Genesis of a (Double) Clarinet Concerto" by Gary Dranch pages 64-67. Dr. Dranch was invited as a guest soloist of the Filarmonica Brasov in Romania, where he performed the Carl Nielsen Clarinet Concerto in April 2009. He was also soloist with The Westchester Band in Scarsdale, New York during the summer 2009. In November 2012 he performed Spohr's Clarinet Concert No. 4 with the SIBIU State Philharmonic. On April 20th, 2014 he will premiere a clarinet concerto he commissioned from composer Douglas Anderson. The work is called Spirit Guide and is to be performed by the Brooklyn Symphony Orchestra at the Brooklyn Museum.