George Curran — Bass Trombone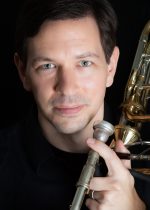 George Curran became the bass trombonist of the New York Philharmonic in June 2013 after serving in that role with the orchestra during the previous season. Prior to that, he was a member of the Atlanta Symphony Orchestra and a fellow with the New World Symphony.
Mr. Curran has participated in several recording projects recently, starting with an Atlanta Trombone Project recording titled Roadwork. This project resulted in the formation of the Southeast Trombone Symposium, an annual week-long summer workshop at Columbus State University (CSU). Following that recording, he was a soloist on a disc titled A Beautiful Noise, which featured prominent trombone soloists performing with the CSU Trombone Choir. In 2017, Mr. Curran released a full length solo CD called Vital Signs, which contains works by Gillingham, Gershwin, Bourgeois, Pierce, and Verhelst. Another CD, Legacy, was released concurrently by members of the Southeast Trombone Symposium, on which Mr. Curran is featured prominently throughout.
As a soloist, Mr. Curran has premiered several new works written for him, most importantly the title track of his solo CD. Written by David Gillingham and called Vital Signs of Planet Earth, Mr. Curran premiered the piece with the Central Michigan University Wind Ensemble, and has performed it several times since, including in Carnegie Hall. He was twice a soloist and judge at the Jeju International Wind Ensemble Festival in South Korea, and was a featured soloist and clinician at the prestigious Slide Factory in Rotterdam. This past year he was featured at several major workshops, including the International Trombone Festival, the Arctic Trombone Festival, and the Spanish Trombone Festival and Competition. Mr. Curran has also performed concertos with bands at the American Trombone Workshop and the Midwest Clinic in Chicago, as well as with many collegiate and local ensembles.
A native of Farmington Hills, Michigan, George Curran received his bachelor's degree in music education on euphonium from Central Michigan University and a master's degree in performance on bass trombone from the University of Cincinnati College-Conservatory of Music. His principal teachers have included John Rojak and Peter Norton. He is an S.E. Shires Trombone artist, and is on the faculty of Rutgers University, Manhattan School of Music, and Mannes School of Music.