Phil Parsons — Trumpet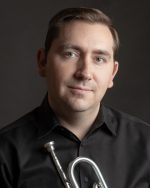 As a diverse musician and trumpet player, Phil Parsons enjoys performing in various settings including orchestras, musical theater, and big bands. With his formal training from the Oberlin Conservatory of Music (BM) in classical music, Phil has performed with orchestras including the Las Vegas Philharmonic, Lexington Philharmonic, and Symphony Orchestra Augusta. He has also performed with New York City orchestras such as the Greenwich Village Orchestra, Chelsea Symphony, and the Park Avenue Chamber Symphony. In the jazz genre, he has performed with headliners such as Ben Vereen, Clint Holmes, Ronnie Rose, Jo Belle Yonely, Tony DeSare, and Ann Hampton Callaway.
While living in Las Vegas, he recorded three albums: Putting on a Show, an original musical by Christopher Lash, Four of Us with the award winning University of Nevada, Las Vegas (UNLV) Jazz Ensemble I, and Lost Vegas with the UNLV Wind Orchestra playing as principal trumpet.
Phil is currently the GVO's principal trumpet and librarian.