Rebecca Farley — Soprano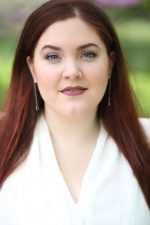 Rebecca Farley, soprano, has been praised for her poise (Opera News), her "fine, flexible soprano" (Parterre Box), and her "filigree phrasing" (Scoop NZ). She received her master's degree from The Juilliard School where she was a Kovner Fellow and now as an alumna is a proud recipient of the Novick Career Advancement Grant. At Juilliard she appeared as Bubikopf in Ullman's Der Kaiser von Atlantis and as the stratospheric Controller in Jonathan Dove's Flight. Other operatic credits include Pamina in Die Zauberflöte, Gilda in Rigoletto, and Nannetta in Falstaff. Most recently, she made her West Coast debut singing Countess Almaviva in Le nozze di Figaro conducted by James Conlon.
Ms. Farley is thrilled to be returning to the Greenwich Village Orchestra this season. She last appeared with the orchestra in their collaboration of the Verdi Requiem with St. George's Choral Society. She also rejoins St. George's Choral Society in November for their performance of Haydn's Missa Cellensis.
Ms. Farley made her Carnegie Hall debut December 2016 in Bach's Magnificat with The Cecilia Chorus of New York, an ensemble with whom she returned the next season for Bach's Weihnachts-Oratorium. Another recent Carnegie highlight was a collaboration with Ensemble Connect for Monteverdi's Il combattimento di Tancredi e Clorinda, in which she sang the role of Clorinda.
Last season, Ms. Farley made her Buffalo Philharmonic Orchestra debut in a staged concert of Mozart favorites. She took on Fiordiligi, Countess, and Donna Anna all in one night in scenes from Così fan tutte,Le nozze di Figaro, and Don Giovanni. She made her David Geffen Hall debut last March with The National Chorale in Angela Rice's oratorio Thy Will Be Done. This performance included an aria written specifically for Ms. Farley, and was the New York premiere of the work. Other notable premieres include Jonathan Breit's Der Zippelfaggotist at Carnegie Hall and Sherry Wood's Mara: A Chamber Opera at The Rubin Museum.