Yaniv Segal — Guest Conductor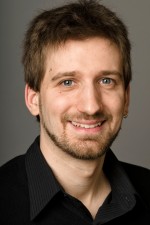 Yaniv Segal, founder and conductor of the Chelsea Symphony in New York and described in Esquire Magazine as a rising star who is "redefining classical music", has performed worldwide as a singer, violinist, actor and conductor. The New York Times praised his interpretation of Mahler's Fourth Symphony as an "earnest, vibrant account". Yaniv has trained with several of the preeminent conductors of our day such as with Maestro Kurt Masur at his Masterclasses at the Manhattan School of Music and in Poland, as well as with Maestro Lorin Maazel at the Castleton Festival in Virginia. Since 2009, Yaniv has been the music director of the Michigan Pops Orchestra, a 100 member orchestra that regularly draws large and enthusiastic crowds to their concerts at the historic Michigan Theater.
The son of a New York Philharmonic violinist and respected violinmaker, Yaniv began to play the violin at age four and began singing at age eight. As a boy soprano, Yaniv sang at the Metropolitan Opera and later played the role of Colin in the first national tour of the Secret Garden. His acting career continued with a role in Tom Stoppard's Hapgood at Lincoln Center Theater. As an undergraduate at Vassar College, Yaniv co-founded and served as music director of the Mahagonny Ensemble — a community ensemble dedicated to music of the past 100 years — and as assistant conductor to the Vassar College Orchestra. He has since worked as an assitant with the New York Youth Symphony and Princeton Symphony and at the Manhattan School of Music. Yaniv has also conducted the Ensemble Orchestral de Paris, Castleton Festival, University Symphony, Greenwich Village and New Symphony (Bulgaria) Orchestras, the Wroclaw (Poland) and Thuringen (Germany) Philharmonics, and the Ukrainian State, University of Michigan and Stamford Young People's Symphonies.
Yaniv is a recipient of the Paul and Daisy Soros Fellowship for New Americans, and the Ada L. Hopkins Scholarship at the University of Michigan where he is pursuing a Doctorate in Musical Arts in Orchestral Conducting under the tutelage of Maestro Kenneth Kiesler as well as a Master's in Music in Composition.